Talking Mule Deer is the official podcast of the Mule Deer Foundation and covers mule deer and black-tailed deer biology, hunting, and conservation issues. Hosted by Steve Belinda and Jodi Stemler, both passionate conservationist who bring a wealth of knowledge, humor and intrigue to mule deer conservation and help listeners underdstand what MDF does and what you can do to help mule deer.
Episodes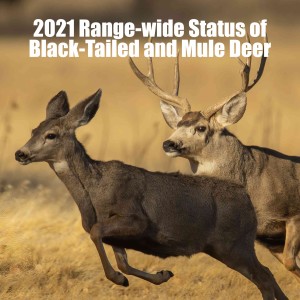 Thursday Aug 26, 2021
Thursday Aug 26, 2021
2021 Range-wide Status of Black-Tailed and Mule Deer with Jim Heffelfinger and Joel Pedersen - Season 4 Episode 10
We are excited to bring you the 75th episode of Talking Mule Deer, and we could not think of better guests than MDF President/CEO Joel Pedersen, and Arizona Game and Fish Department Wildlife Science Coordinator Jim Heffelfinger to talk about the 2021 Range-wide Status of Black-Tailed and Mule Deer produced by the Western Association of Fish and Wildlife Agencies' Mule Deer Working Group. This episode goes in-depth on how the working group functions, and how the 24 different states and provinces that make up the group use their deer population data to develop the annual report. The team explores why it is a challenge to make blanket assessments on mule deer decline, and how a majority of states are seeing stable or growing populations. We also talk about some of the variables we are seeing this year with drought, fires, and disease that may impact future populations.